Summary
: : Introduction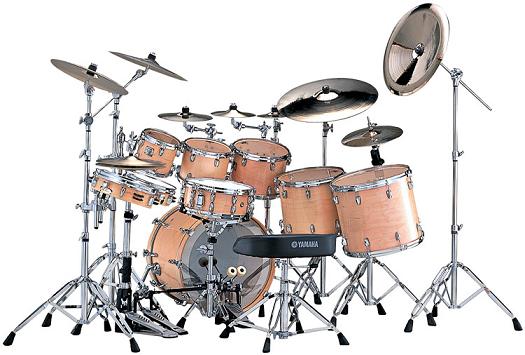 The modern (or contemporary) drumset ("batterie" in French, meaning also "drumming" and "drum corps"), also called "jazz drums" (or "drum kit" to describe a group of drums played by one musician or "trap drums" to designate the use of pedals or perhaps sound effects), appeared in the early twentieth century in the United States of America. Nevertheless, we can already see the beginnings of this instrument with the appearance of "one-man band" at the end of the Middle Ages in Europe, which used a bass drum attached in the back and a beater attached to an axis of rotation and operated by a string attached to a foot.
The bass drum pedal appears in the early twentieth century and the hi-hat pedal (or "high-hat", "charleston" in French) appears in the 20s with the first big bands playing sitting on dancing paddle steamer or ballroom in New Orleans, the birthplace of jazz and blues.
In fact, to understand the modern drumset, you must first know that all the instruments that compose it, if we exclude all extensions, pedals and stands, which are there to help to use them, and are the only true inventions that make the drumset a modern instrument, are instruments whose origin dates back to the dawn of humanity (as most percussion instruments).

: : The origins : from prehistory to the nineteenth century
There are representations of drums and cymbals among the oldest sculptures (Greek or Assyrian bas-reliefs (photo: Palace of Ashurbanipal at Nineveh, 7th century BC.)) or antique paintings (Egyptian tombs, Roman (Pompeii), long protected from light), suggesting a presence even earlier. The word "tambour" ("drum" in French) is from Oriental origin, and even the snare (of the "snare drum") can be found on the Moroccan tambourines (in the form of dried gut, as the European military drums up at last century) the "bendirs." Tambourine (low-deep wooden cylinder with single skin) is found in various forms in the oldest traditional cultures around the world, which lets imagine that it is one of the oldest percussion instruments.
Bronze cymbals with Turkish form have been found (the form most commonly used in jazz and rock) but small, in ancient Greek tombs. The ancient Greeks believed they had the power to ward off evil spirits, but there are also many representations that are included in the festivities and banquets, where a dancer (balancing on one foot) plays cymbals.
It is probably only later, with cymbals with larger format, they are used for military purposes, as all the most powerful instruments (drums, timpani, foghorns, bagpipes, trumpets, brass horns, etc.) to relay orders to the end of the battlefield, push soldiers to walk (hence the word "marches" (meaning "walking" in French) for the compositions of martial music), or simply scare the enemy (such as the use of cymbals by Ottoman Janissaries (photo) later became fashionable in Europe through them).
The teaching of the drums at the Conservatoire National Supérieur de Musique de Paris is still from what could be its golden age: the Napoleonic military drumming (see the "Méthode de tambour et caisse claire d'orchestre" by Robert Tourte with "Le Rigodon d'honneur", divertissement des "Grognards" dans leur camp" ("The Rigodon of honor, entertainment of the "Grunts" in their camp"), la "Batterie d'Austerlitz" ("The Austerlitz drumming"), "la marche des éclopés" also simply called "la boiteuse" ("The march of the lame" or "The Lame"), for examples), which coincides with the maximum sophistication of infantry formations and movements that can only be found today for the "show" in some military or school parades (especially in American schools). This is a tradition that is virtually over in France, which had almost a municipal brass band per town during the Napoleonic era, and people saw this as an opportunity to practice popular music with a national and friendly characteristic, as well as the Samba in Brazil today, for example.
In the early nineteenth century, in the United States of America newly independent, with the departure of French troops from New Orleans (sale of the French colony of Louisiana by Napoleon Bonaparte in 1803), all musical military instruments considered too cumbersome for boats are sold off or abandoned. Populations of African slaves, massed in the drudgery of the cotton fields and who are almost prohibited from everything, even the practice of European symphonic musical instruments, see it as a golden opportunity to find musical practice of their ancestors, based on improvisation and polyrhythms, while getting in a "correct" cultural compositional and instrumental frame for the white supporters of slavery, because of European culture (drums and marches, with French rudiments as the "ra" or the "coup coulé" (literally "Slipped stroke")).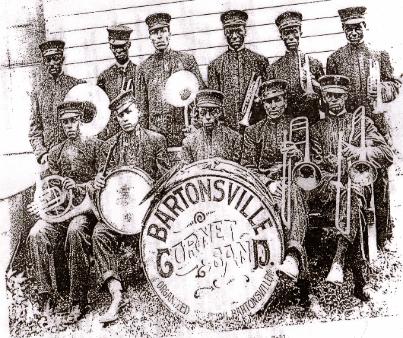 Thus were born the "Brass Bands" (or "Marching bands") and the style "New Orleans" first for the burial ceremonies and then carnivals (which was allowed since the French Colonies, still called "Mardi gras" ("fat Tuesday" in French) as in France, with probably a French cultural transmission as evidenced by the specific French rudiments common in New Orleans jazz but not in the American official rudiments of the National Association of Rudimental Drummers, of 1933), balls and weddings to finally "sit" on the paddle boats deck, in the "dance halls", the "brothels", bars, restaurants and cabarets, to become the "jazz" as we know it. At that time (XIX century), appears the practice of "double drumming" for the sake of economy, bass drum and cymbals were played by a single musician, a cymbal being attached to the bass drum (see photo). We can consider that this is the first step in the creation of the "drumset", with the first play with independence (two different percussion instruments played in chord (unison) or not (with polyrhythm) by a single musician) but we must not forget that this is an ancient practice (indatable because of the oral tradition and the use of "derived" instruments: mortar for drums, and cattle bells ("cowbells")), in Mandingo percussion with dununs and kenkens (see photo below of the group "Djoliba" in 1981, with the famous "djembefola" (djembe player) Guinea Mamady Keïta (center), guardian of a secular tradition).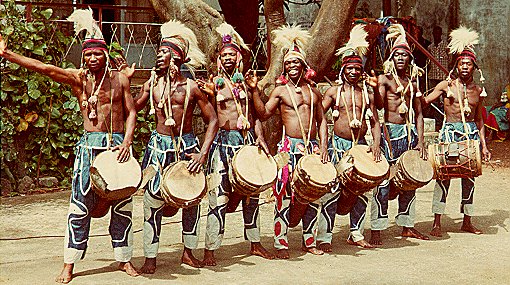 We may wonder if certain virtuosic phrases of "double drummer", still played today in New Orleans and also orally transmitted, come directly from their African deported ancestors, and were not played first in secret in the "bayou" because any expression of African culture has long been prohibited in America. The percussive Afro-Cuban tradition is probably the closest to the original African phrases (such as "cascara" or "clave", reproduced just as it is) and was integrated much later in modern drumset with the "Latin jazz" of New York.

: : The invention of the modern drumset: the beginnings of jazz (1900-1940)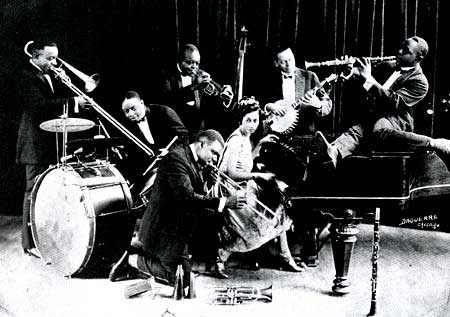 Some historians believe that the word "jazz" comes from the French slang word "jaser" (pronounced "jazze" and meaning "to chat" or simply "jazz" for "il jase" meaning "he chats"), which may characterize the dialogue engaged by the soloists who improvise in the "New Orleans" music style. The most famous of these groups, the first to record with a real modern drumset (in 1923 in Chicago) and claims to be the first real jazz band, is that of Joe "King" Oliver (playing since the 1910s): the "King Oliver's Creole Jazz Band" (founded in 1922), where Louis Armstrong will illustrate, trumpeter and singer then beginner, Warren "Baby" Dodds (photo), the first recorded jazz drummer (if we exclude Tony Spargo with the "Original Dixieland Jass Band" which for me is more a caricatural pastiche played by "whites", than some true jazz). It is at this time that the bass drum pedal was invented to reduce the number of percussionists (with a number of versions and inventors quite impressive from the late nineteenth century, but this is probably the version of William F. Ludwig 1909: the "toe operated bass drum pedal", which is the closest to the one we know today, allowing to play fast and powerful, and whose success allowed for the first time its industrial production in 1910).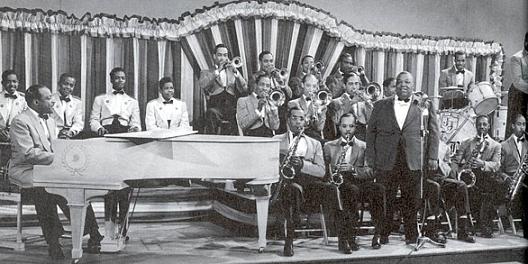 The Prohibition of the 1920s, allows "black music", appreciated by wealthy gangsters, to find generous sponsors and develop the "big bands", where thrive large horn sections ("Duke" Ellington (with drummer Sony Greer , or Louie Bellson later (photo below), the first drummer to play with two bass drums), Bill "Count" Basie (with notably "Papa" Jo Jones (photo above)), "Cab" Calloway , Chick Webb (drums soloist and band leader) are the most famous band leaders, composers, arrangers or pianists, who appears in the equally famous "Cotton Club" and "Savoy Ballroom" in New York). The notion of "Nightclub" ("cabaret" or "cafe-concert" in French), where an initiated public listen to improvised music sipping quietly a drink or dancing, becomes inseparable from jazz, which the "clubs" are still concert venues of current best soloists.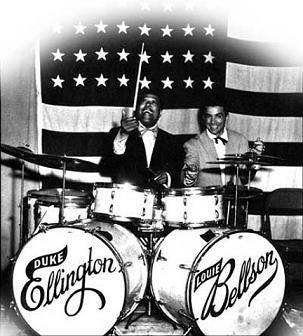 The "jam sessions" where, in the second part of the evening, the most passionate music lovers can listen to real " music battles" where the "newcomers" may try to demonstrate their talent with a group of professionals, are generalized as a cultural and artistic "alternative" to the schools and concert halls of "white" music, where there are generally just transmitting the classical academic frozen music of the European past.
On the opposite, in Europe, from the 1910s, revolutionary vanguard composers as Eric Satie and Igor Stravinsky, who have although received academic training, will be largely inspired by jazz and its polyrhythmic and harmonic vision (as well as European and Russian folklore) to attempt to renew the European written music for symphony orchestra. Later, their music will then inspire Charlie Parker to revolutionize jazz style with the creation of "Be-Bop". With the advent of the disk and the radio, musical ideas flow faster than ever and the score and music theory are no longer required to enter in the "History of Music."
In the 1930s, a competition dynamic then develops in Chicago, New York or Kansas City, allowing the emergence of stunning talents and virtuosos in African American society, still crushed by segregation and frustration, and who sees an outlet and a way to assert themselves in the music of the "cabarets" (as saxophonists Lester Young "the President", Coleman Hawkins, Johnny Hodges, who also influenced the young Charlie Parker). This is the period of the "swing", this rest added after each beat, to give a ternary measure subdivision to all popular melodies.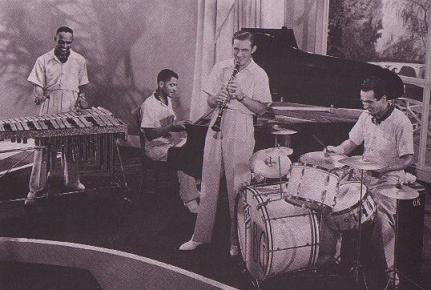 White musicians began to imitate (brilliantly this time) the music from poor neighborhoods and to made it admitted into the prestigious American venues (such as Orchestra of clarinettist Benny Goodman, who was the first jazz band to have the honor to play at "Carnegie Hall" in New York, where they normally play the symphonic and classical music, and there are also a recording of this concert, which illustrates one of the first great virtuoso soloists of the modern drumset, Gene Krupa (photo), which reaches speeds of single stroke roll (alternating right hand, left hand) rarely equalled and builts melodies on modern toms (derived from Chinese tom-toms), which he invented). Meanwhile, the "Jazz manouche" is created in Paris with guitarist Django Reinhardt and violinist Stephane Grappelli, which abandonates the drumset and replaces it with a rhythm guitar. It is in these years that the modern drumset reaches its full completion with the invention of the final hi-hat pedal ("high hat", marketed since 1928) for the left foot, toms with tension bolts quoted above, equipped with legs and holders (in 1936) and the "splash" cymbal, thin and small, for the play with stick, still under the guidance of Gene Krupa (which works with Avedis Zildjian in 1930).

: : Be-Bop and Rock 'n' Roll (1940-1960)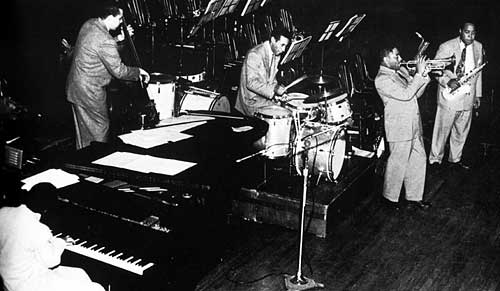 In the 1940s appears the "bebop" revolution, certainly the most accomplished and sophisticated form coming from the blues, with Charlie "Bird" Parker on saxophone, "Dizzy" Gillespie and Miles Davis on trumpet, Bud Powell and Thelonious Monk on piano and Max Roach (photo above, which became one of the leaders of the "free jazz"), Art Blakey (who became the initiator of the "Hard Bop"), Buddy Rich (virtuoso who reaches extraordinary speeds and durations of rolls, and will be a precursor of "jazz-rock"), Roy Haynes (which includes for the first time complex and improvised phrases with 4 limbs and pioneer of "jazz-samba ") or Kenny Clarke (photo below) on drums (considered as the inventor of the bebop style for drums, which consists to improvise on bass drum with the right foot in the accompaniment (keeping a "chabada" in independence), as if it was the left hand, instead of marking time). Kenny Clarke is also one of the first to use large Turkish cymbals (later called "ride") to mark the chabada, instead of using only the hi-hat or snare drum.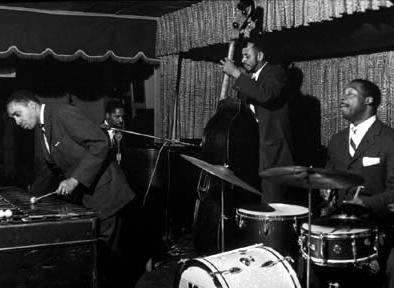 Kenny moved to Paris where he will bring a great influence in the development of French jazz (with the proliferation of the "boîtes de jazz" ("jazz clubs"), litterally: "jazz boxes"). Today, the Paris-New York "axis" remains one of the major poles of the creative expression of jazz, with French musicians like Daniel Humair (Franco-Swiss painter and drummer who played with Dexter Gordon, Chet Baker , Dave Liebman, Stan Getz, Anthony Braxton, Phil Woods, John Scofield, ...), André Ceccarelli (also studio drummer who has played with Dee Dee Bridgewater, Brad Mehldau, Stan Getz, Dexter Gordon and Chick Corea) percussionist Mino Cinelu (with Miles Davis, Kennie Barron, Pat Metheny, Dave Holland, Branford Marsalis, Weather Report, Jacky Terrasson and Dizzy Gillespie), Martial Solal (who played with Peter Erskine ), Jean-Luc Ponty (with notably Daniel Humair , Thierry Arpino , Gerry Brown and Steve Smith on drums), Michel Petrucciani (with Roy Haynes, Steve Gadd, Lenny White and Omar Hakim ), Michel Portal (with Horacio Hernandez and Jack Dejohnette ), Bireli Lagrene (with Roy Haynes, Dave Weckl and Dennis Chambers ) or Richard Galliano (with Al Foster ).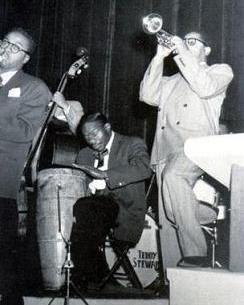 Also in the 1940s, "Dizzy" Gillespie invented "Cubop" (first version of "Latin jazz"), incorporating an Afro-Cuban percussionist, Chano Pozo (photo) in his Bebop orchestra (with Kenny Clarke again, among others), thus initiating what would become the "salsa", including Ernesto "Tito" Puente who become "El Rei" ("the King" or the "Mambo King"). Mongo Santamaria and Ray Barretto, ex Tito Puente's congueros, will be in the 1960s the first to crossbreed salsa with rock and funk, and even Brazilian samba, already foreshadowing "jazz fusion" of the 1970s and more (mix of all contemporary American styles).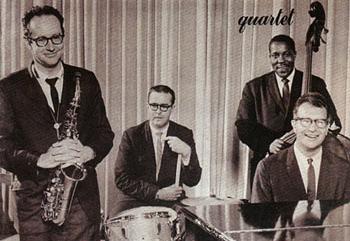 In the 1950s, the "cool jazz", with sophisticated harmonies and more "refined" rhythms, initiated by Miles Davis (with Kenny Clarke and Max Roach again on the first album of the kind "Birth of the Cool" in 1949 ), Chet Baker, Dave Brubeck (with drummer Joe Morello (photo), initiator of asymmetric measures on drums), Bill Evans and Gil Evans, is "in vogue". The famous and melancholy "Kind of Blue" (1959) by Miles Davis (with Jimmy Cobb on drums) became a kind of "lighthouse" of jazz, its greatest record popular success.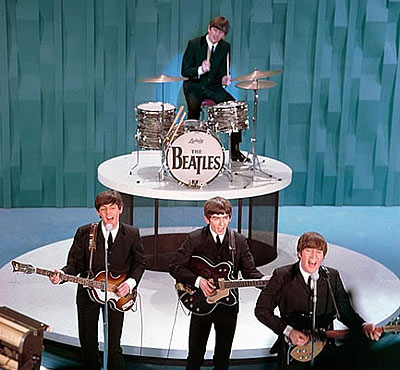 It is also in the 1950s that develops a radically different movement, on opposition to the sophistication of the boppers: the rock 'n' roll. Derived from rhythm and blues (notably with Chuck Berry who is sometimes regarded as the true inventor of the "rock" style), a simplified binary and "hammered" version of the blues, and "folk" or "country", the popular "white" American music, the rock simplifies further the compositional basis, to go to "obsessive" interpretations, more "wild" and physical, putting more easily into trance an audience of young people thirsty of freedom, independence, and revival after the Second World War. Singers like Elvis Presley ("The King" but "of rock" this time), Fats Domino (inventor of the "slow rock", ternary), Bill Haley are the leaders of this music resolutely aimed at teenagers (which Hal Blaine will be one of the most requested studio drummers). American rock inspired quickly English "pop-music" (in the 1960s), more watered down (at first) but still creative, of the "Rolling Stones" (and drummer Charlie Watts, jazz trained, always "up-to-date") and "The Beatles "(and Ringo Starr, drummer with simple but effective, "risque" and researched play), which the success and popular impact are ignored by none today (the Beatles stay the historical recordmen of disk sales in all styles and mediums).

: : Free-jazz, fusion and hard rock (1960-1990)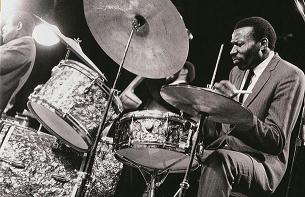 Meanwhile, others are striving, in the 1960s, to push to the maximum of audibility the jazz solos (by their speed, volubility and tonal complexity), with what they call themselves the "free jazz" (John Coltrane, with his famous quartet with McCoy Tyner on piano, Jimmy Garrison on bass and Elvin Jones (photo) on drums, or Ornette Coleman, Don Cherry, Eric Dolphy, Albert Ayler, Anthony Braxton, Sun Ra and Archie Shepp, with notably Ed Blackwell and Billy Higgins on drums).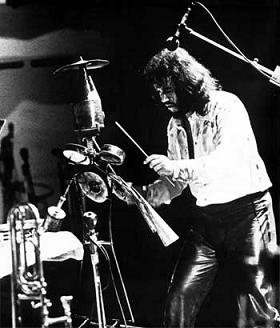 It is also in the 1960s that appears the mixing "jazz-samba", in the same time as the Brazilian "bossa nova" ("new bump", ie "new wave") with American jazz virtuoso saxophonist Stan Getz, Brazilian singer Astrud Gilberto, and her husband Joao, guitarist, Antonio Carlos Jobim or the composer, singer, guitarist and lyricist Vinicius de Moraes, who are all inspired by Rio carnival music to adapt in more intimate pieces for cabaret size (notably with Brazilian percussionist Airto Moreira (photo), who take a great part in the origins of jazz-fusion (by the side of Stan Getz, Miles Davis, Chick Corea and Weather Report) or Roy Haynes, who initiates complex rhythms even with the left foot, probably to mimic the polyrhythmic abundance of batucada).
In the rock movement, people like Jimi Hendrix (and the English drummer "Mitch" Mitchell (photo), who fills his improvised speech with "ghost notes" (pianissimo notes) while maintaining the "afterbeat" (time 2 and 4, "fortissimo", played on the snare drum), initiating surely "jazz funk" or "free groove", on drums), Carlos Santana (and his Afro-Cuban percussionists Raul Rekow (congas) and Karl Perazzo (timbales)), Jim Morrison and the "Doors", Janis Joplin and Joe Cocker embody a return to blues and jazz of rock, with a more "world" touch, even downright Latin (for Santana), thanks notably to the famous outdoor festival of "Woodstock" (1969) which includes a record never saw of 500,000 spectators, a real peaceful and pacifist event of youth, part of the student movements of 1968.
In the festivals of the Isle of Wight in 1968, 69 and 70 (in continuation of Woodstock) is illustrated also a new approach to jazz, more "world" and rock (binary, "funky", but also Afro-Cuban and Brazilian) with young artists like Chick Corea, Keith Jarrett, Dave Holland and the drummer Jack de Johnette , very versatile, which are joined brilliantly by a constantly rejuvenating Miles Davis, and surrounded always by the youngest talents like the precocious Tony Williams (photo), about which he could say that because of him, he had returned to work on his instrument, Lenny White or Al Foster on drums, but also those who will become leaders of "jazz-rock" and "jazz fusion": Chick Corea (which his "Elektric Band" (from the 1980s) will be supported by one of the greatest virtuosos in the history of modern drumset, the young Dave Weckl (right on photo)),
Joe Zawinul and Wayne Shorter (cofounder of the group "Weather Report" which received alternately drummers Peter Erskine, Alex Acuña and Omar Hakim as beginners), John McLaughlin, electric guitarist, all gathered in a mythical album of Miles in 1969 entitled "Bitches Brew ". We must also quote Steve Gadd (left on photo) who will play with Chick Corea and Weather Report too and many other prominent musicians of jazz and pop music since the 1970s, with melodic figures ("linear drumming") of his own.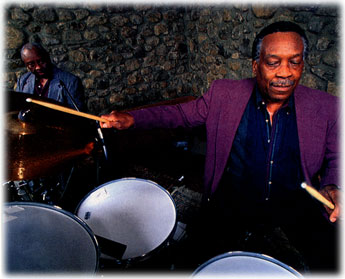 In the 1970s, John McLaughlin, with his Mahavishnu Orchestra, including the fiery Billy Cobham on drums, one of the precursors of virtuoso double bass drum playing, then with his group Shakti and Zakir Hussain , tabla virtuoso (Indian hand drums), further expands the original fusion of jazz to India and "funk", a more "africanised" movement of pop with its leader, the singer James Brown (with John "Jabo" Starks and Clyde Stubblefield ( photo) or Bernard "Pretty" Purdie on drums). James Brown also sought inspiration in African pop or "Afro-beat" of Fela Anikulapo Kuti and his drummer Tony Allen , himself an admirer of the "Godfather" of soul, when they met together in the 1970s. The funk drumming is at the origin also very influenced by jazz-samba and Latin jazz through "Jabo" Starks and Purdie (bass drum beats reminiscent the Brazilian surdos, cross-sticks reminding the tamborims rhythms and bossa nova, clave on the snare), which makes it already very close to the jazz fusion (which mixes all genres), but more simplified (repetitive). Dennis Chambers will maintain this "jazz-funk" flame again with John McLaughlin, mastering all the subtleties of the funk, jazz and blues drumming, and mixing them with an ease rarely achieved. Another John McLaughlin drummer, Trilok Gurtu, an Indian, will invent a unique playing style, blending hand percussions and modern drumset.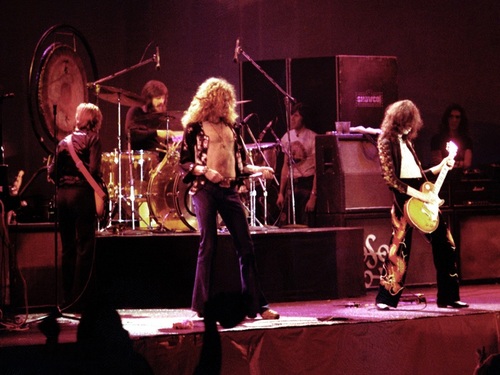 The band Led Zeppelin (photo above: Robert Plant (vocals), Jimmy Page (guitar), John Paul Jones (bass and electric organ) John Bonham (drums)), which plays with both great violence and virtuosity opens the "hard rock" style (Deep Purple (with the drummer Ian Paice), Van Halen (Alex Van Halen), AC-DC (with Phil Rudd), Guns'n'Roses ( Matt Sorum), etc.), in the 1970s, which will lead to "heavy metal rock" ("thrash metal", "speed metal", etc.) which radicalize even more the ultra-violent aesthetic (Black Sabbath (Bill Ward and Vinnie Appice among others), Judas Priest ( Simon Phillips among others), Motörhead (Mikkey Dee among others), Iron Maiden (Celtic-inspired, with the "lightning" Nicko Mc Brain (photo)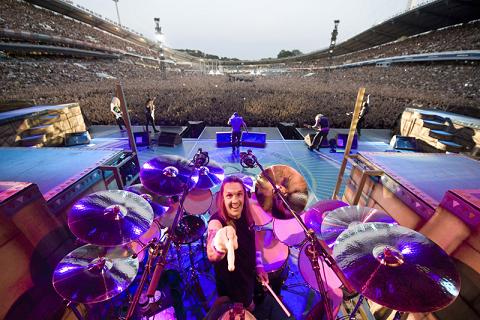 on drums, jazz educated), Metallica (with Lars Ulrich , drummer and composer as leader), etc.) and the "death metal", which systematizes a continuous flow of double bass drums in the 1990s (especially with Gene Hoglan (drummer with Dark Angel, Death, Strapping Young Lad, etc.), drummer with superhuman endurance and speed with feet, who had the idea of applying the military paradiddle for the alternating play with two feet and two hands). It is also in the 1970 years, that appears two contradictory movements in pop, first a most brutal and rebel current: the "punk music" (Iggy Pop and the "Stooges" in the United States and the "Sex Pistols" in England), and the "progressive rock", more lyrical and even downright "classical" in its general as ornamental forms (Frank Zappa (who mixes all genres with Terry Bozzio and Vinnie Colaiuta notably, incredible virtuoso drummers), King Crimson, Yes and Rick Wakeman (with Bill Bruford among others, playing very melodic, including electronic drums), Genesis (with Phil Collins first drummer and backing vocalist before becoming lead singer after the departure of Peter Gabriel), Magma in France (with virtuoso drummer Christian Vander, leader of the group), and a movement more "pop" (with shorter duration pieces, adapted to the FM format), David Bowie, Pink Floyd, Supertramp, Queen, Journey (Steve Smith), Rush (Neil Peart), Toto ( Jeff Porcaro), and more recently (late 1980, 1990), Dream Theater (Mike Portnoy (photo below), drummer solo leader), Primus ( Tim Alexander) and Angra (Aquiles Priester ), with more "metal" sounding).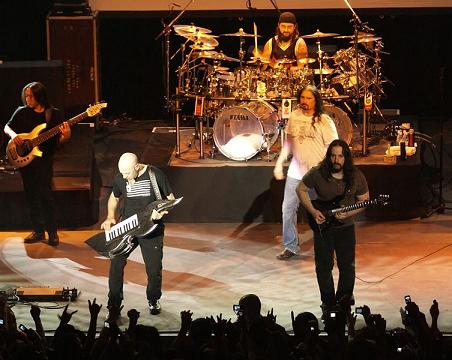 In a most popular movement, the "Disco" (so called because it was first played exclusively in "hip" discothèques (nightclub in french, with disc jockeys) and refused in radio, considered too "brutal" because of a strong presence of the bass drum on each beat), will finally become the dominant fashion in the late 1970s, around the world, and we can say that even if he did not invent the genre as a whole, the "sound" and how to play drums in this context of French Marc Cerrone will mark the style, up to the electronic "recycling" (with drum machines) of House, Techno and Dance (sometimes with simple samples, as with Bob Sinclar or Daft Punk, which is also a step towards a return to the acoustic drums, very unfashionable in the 1980s pop, hurting certainly a lot of professional drummers).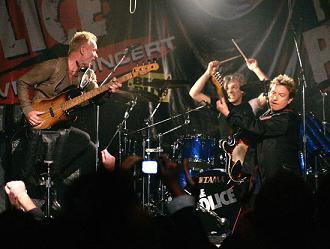 We can quote also the pop lead singer and bassist Sting, but jazz trained, who played with many great virtuosos of drumset: Stewart Copeland (in his first band "The Police", in the late 1970s, which has recently resumed (photo)) which mixes the Jamaican "reggae" and pop, Vinnie Colaiuta , master of asymmetric measures (great with Frank Zappa and great studio drummer), Omar Hakim (Miles Davis, Weather Report and also great studio drummer) or also Manu Katché (drummer and pianist, who will express brilliantly with the Norwegian jazz saxophonist Jan Garbarek) to name a few.

: : The vanguard modern drumset since 1990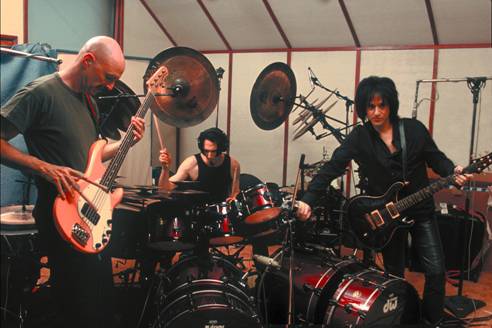 Today, the development of virtuoso modern drumming going naturally from the simplest to the more difficult comes to its full maturity with the accession of the left foot, the less capable and controllable limb, as a virtuoso limb itself.
Drummers like Dave Weckl (Chick Corea, Michel Camilo, Aziza Mustafa Zadeh, Madonna, Dave Weckl Band), Terry Bozzio (Frank Zappa, Missing Persons, Jeff Beck, the Brecker Brothers, Tony Levin (photo) John Petrucci and solo), Simon Phillips (as leader and with Judas Priest, Toto, Joe Satriani, Derek Sherinian, Jeff Beck), Virgil Donati (Frank Gambale, Planet X, Derek Sherinian), Mike Terrana (Rage, Axel Rudi Pell, Yngwie Malmsteen, Tony Mac Alpine, Kiko Loureiro, Taboo Voodoo) and Marco Minnemann (Illegal Aliens), in a "Fusion" unbridled style or Mike Portnoy (Dream Theater) and Thomas Lang (John Wetton) in progressive rock, pushed to its maximum the play of double bass drum or bass drum double pedal (invention of the 1980s, with a transmission bar for the left foot), to such an extent that it makes virtually no difference between hands playing, in the technical tradition of classic military snare drum, and the feet playing.
In more traditional jazz, drummers like Roy Haynes (Sonny Rollins, Thelonious Monk, Stan Getz, Chick Corea, Pat Metheny, Michel Petrucciani, Roy Hargrove), Elvin Jones (who died in 2004 and played with Wayne Shorter, Sonny Rollins, John McLaughlin, Joshua Redman and Pharoa Sanders), Tony Williams (who died in 1997, played with Miles Davis, Stan Getz, Herbie Hancock, Chick Corea, John McLaughlin, Carlos Santana and Weather Report), Jack DeJohnette (who becomes the current drummer of a new great virtuoso of piano, Keith Jarrett (photo), but played also with Pat Metheny, John Abercrombie or Michael Brecker, among others), Dennis Chambers (Funkadelic, John Scofield, John McLaughlin, Gary Thomas, Brecker Brothers, Tony Mac Alpine, Bireli Lagrene, etc.), Bill Stewart (Pat Metheny, Michael Brecker, John Scofield, etc.), Jeff "Tain" Watts (Branford and Wynton Marsalis, McCoy Tyner, Gary Thomas, Terence Blanchard, Kenny Garrett, Michael Brecker, Sonny Rollins) or Terri Lyne Carrington (Herbie Hancock, Diane Reeves, Wayne Shorter, Stan Getz, Pat Metheny, Michael Brecker, John Scofield, Mike Stern, Nguyen Lê, Gary Thomas, etc. ), literally improvise with the four limbs at the same time (with the left foot on hi-hat).
In the Afro-Cuban style drummers like Alex Acuña (Weather Report, Chick Corea, John McLaughlin, Perez Prado, Tito Puente, Carlos Santana), Horacio "El Negro" Hernandez (Chico and Arturo O'Farrill (Photo), Michel Camilo, Kip Hanrahan, Carlos Santana, Gonzalo Rubalcaba, Roy Hargrove, etc.), Akira Jimbo (Casiopea, solo) or Robby Ameen (Kip Hanrahan, Ruben Blades, Dave Valentin, Eddie Palmieri) play complex rhythm of the clave with the left foot (with a bell mounted on a stand and played by bass drum pedal), while maintaining complete independence with the other limbs. All these drummers have also passed on their knowledge to the world, through instructional videos and are pioneers in this field.
This is what helped me, in addition to their studio recordings, their scores and sometimes their concerts (when I could see them in Paris, as Jack DeJohnette, for example) to teach me their techniques and integrate their practice, to develop a play quite original, to my knowledge, with a complex phrase, from a samba instrument, per limb.
I was also helped by the knowledge of batucada instruments, percussion orchestra of the Rio carnival, I practiced in the group Aquarela de Paris, whose founding members are all from the first Samba School created in Europe, and thus preserving the authenticity and richness of playing techniques and compositions of Brazilian percussions.
My practice of djembe, Mandingo bells and dununs also allowed me to try transpositions of Mandingo polyrhythms including complex phrases with the left foot, which is also a very recent approach of the contemporary drumset.

I wager this instrument will reveal many more secrets, worlds to explore and pleasure to share.
Marc De Douvan, October 2005, corrected and augmented in October 2011, translated in English in November 2012.
Indicative sources: Drummerworld.com (a database that compiles biographies extracted from expert books or drummers autobiographies present on their official website (in English), as well as audio and video judiciously chosen), Wikipedia.org, "La grande encyclopédie Larousse", "L'odyssée du jazz" by Noël Balen, "Jazz" by John Fordham, "Passeport pour le jazz" Philip Adler (who also presents the only weekly jazz concerts television program (in entirety) on the wireless network (in France), unfortunately disappeared: "Jazz 6", which made me know the drummer Horacio Hernandez, for example, which presented jazz in a broad sense, often far from the "conservatiste clichés" (fortunately I kept vhs tapes of these broadcasts and concerts, sometimes filmed by M6 Channel exclusively)), " La discothèque idéale du disque compact, Jazz-Rock-Variété " Flammarion, "Batteur" magazine (all issues are good to read), the "Méthode de tambour et caisse claire d'orchestre " by Robert Tourte, and personal analysis note by note (by ear and with attempt to reproduce on the instrument) of the drum parts and percussion of thousands of reference works (see in particular the selective discography, videography and bibliography in the "Great Drummers" section of this website) gleaned here and there in specialized stores (record stores, music libraries) or lending libraries in Paris and Angers (and through exchanges with many music lovers, not always musicians). For those who wish to deepen their knowledge of the historical of modern drumset and its context, I recommend reading " Une histoire de la batterie de jazz " in three volumes, by Georges Paczynski for his impressive and rare documentary abundance, although I do not always share the points of view and analysis of the author and his choice of works, and it is naturally very focused on the world of jazz (with a vision sometimes a little too "classic" and "US- centrist ", in my opinion).