Stubblefield Clyde
Musicians or bands:
James Brown, Ben Sidran, Otis Redding,John Scofield, Bootsy Collins, Pee Wee Ellis, Garbage
Biography and commentary: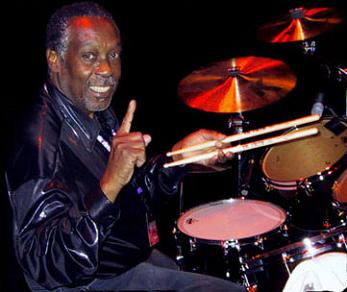 Clyde Stubblefield (born in Chattanooga, Tennessee in 1943) integrated the band of James Brown ("The Godfather of Soul") almost from its beginnings (1967) and breathed into it his touch, with complex rhythms ("breaks beats" or "Displaced beats ", examples: "Out of Sight", "Cold Sweat", "I Got the Feelin' " (1967), already initiated by Buddy Rich in 1966 in a cover of Stevie Wonder: "Up Tight", album "Swingin' New Big Band") and marks the legendary "Sex Machine" album (1970). He is one of the great pioneers of funk drumming that is still valid given the sophistication, virtuosity and the avant-gardism of his playing. The use of "ghost notes" especially with "drags" (rebounds), "rim shot" for accented notes and "shuffles" on the bass drum complementing the "backbeats" (right foot / left hand "flams" ), single paradiddles with right hand-right foot unisons, form part of his "trademarks" (as Mitch Mitchell (Jimi Hendrix), Carmine Appice (Vanila Fudge) and Bernard Purdie (Aretha Franklin), and which can be found with all great funk and jazz-rock drummers since, like Jack DeJohnette, Steve Gadd, David Garibaldi, Gerry Brown, Harvey Mason, Lenny White, Billy Cobham, Dave Weckl, Dennis Chambers and even Horacio Hernandez). The "Drum'n'bass" was greatly inspired by this type of drum phrases (by scratchings, mixing, drum machines or just samples). He might be the drummer the most "sampled" in history (remember that in principle, there is no Rap drummer but only funk drummers samples, in general). Clyde often played in duet with another more "square" drummer like John Jab'o Starks with James Brown, and they all participated in an educational video anthology ("Soul of The Funky drummers"). James Brown was himself a drummer and also breathed his own ideas to the playing of Clyde (as the fact to play rim shots on the first beat of the measure, which is very destabilizing and African for Western ears, and the opposite of rock), as evidenced by dialogues, appearing on some studio recordings ("Cold Sweat alternate take" 1967 new version with a bonus Clyde solo, in the compilation "Foundations of Funk", PolyGram, 1996, a must). James himself was surely inspired by Fela's drummer Tony Allen, the inventors of Afrobeat, when they met at the respective tours in 1970, in Nigeria and the United States. Latin music is also a major influence of James Brown's funk rhythms, because we find the rhythm of the "clave" on the snare drum ("Get it Together", 1967 by John "Jab'O" Starks, this time ) or inverted bossa, also typical of New Orleans style (Cajun, Marching Bands). Inevitable for any funk or R'n'B drummer, but also for all styles, as his influence has marked the contemporary drumming, from jazz-rock to metal, through rap and pop.
Marc De Douvan, publication in French: December 10, 2007 (for the translation in English: July 12, 2015)
Official website
See
Link to Drummerworld or other
See