Morello Joe
Musicians or bands:
Dave Brubeck, Phil Woods, Stan Kenton, Paul Desmond, Art Pepper, Louis Armstrong, Herbie Mann, Gerry Mulligan, John Scofield, Eddie Gomez, Gary Burton
Biography and commentary: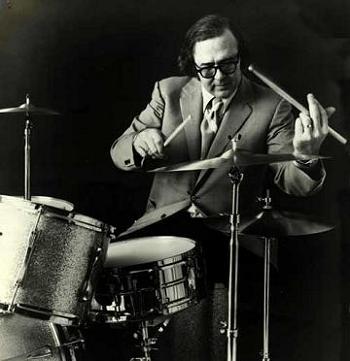 Born in 1928 almost totally blind (he will learn music by ear and memory, but that did not stop him to write methods), Joe Morello began music at 5 years old by studying classical violin and will play three years after as a soloist with the Boston Symphony Orchestra, which says a lot about his predisposition to music. At 16, he began to study drumset with the main focus on the practice of classical drum techniques (with George Lawrence Stone in person, the author of "Stick Control for the Snare Drummer" (1935)), but accedes quickly to an ease that allows him to invent an original approach from these techniques, by introducing accents inside the rolls (on the second stroke of double strokes, on the opposite of the European military tradition, thanks to the hits alternatings (inspired by the "Moeller" technique)). These techniques were retaken later by GL Stone in his method "Accents and rebounds for the snare drummer" (1961, which was used by Daniel Humair, among others), which he dedicates to Joe Morello. His collaboration with Dave Brubeck allowed him to be the first jazz drummer to play asymmetric measures (like the famous "Take Five" (measure in 5 beats) from the album "Time Out" (1959), but also "Blue Rondo à la Turk" (9 beats alternated with swing) and later "Unsquare Dance" (1961) in 7 beats, typically Greek). It is interesting to note that the idea of asymmetric measures (or odd: 5, 7, 9 beats, etc.) in jazz, comes from Joe and not Dave Brubeck himself (the reference to the traditional rhythms of the Middle East ( from Eastern Europe to India), is obvious (listen to the Turkish drummer Okay Temiz, Franco-Algerian Karim Ziad or Indian, Trilok Gurtu)). Joe Morello is probably one of the drummers who pushed the furthest the "swing" jazz drumming with his contemporaries Elvin Jones and Tony Williams. Joe has also written some very famous drum methods presenting essentially snare drum exercises (also inspired by the exercises written by Stone for him: "Master Studies", 1983), or adaptations of the rudiments for modern drumset ("Rudimental Jazz", 1967), and there are also instructional videos of him. Joe just left us in 2011 and he joined undoubtedly the Pantheon of the modern drummers.
Marc De Douvan, publication in French: November 22, 2006 (for the translation in English: July 12, 2015)
Link to Drummerworld or other
See