Humair Daniel
Musicians or bands:
Martial Solal, Chet Baker, Michel Portal, Henri Texier, François Jeanneau, Jean-Luc Ponty, Joachim Kühn, Gato Barbieri, Eddy Louiss, Anthony Braxton, Lee Konitz, Dave Liebman, Dexter Gordon, Jean-Francois Jenny-Clark, Pierre Favre, Fritz Hauser, Louis Sclavis, Fredy Studer, Franco Ambrosetti, Steve Grossmann, Stephane Grapelli, Jim Hall, Phil Woods, Lucky Thompson, Oscar Pettiford, Kenny Dorham, Herbie Mann, Dieter Häner, Marc Ducret, Bruno Chevillon, Dominique Pifarély, George Garzone, Hal Crook, Stan Getz, Freddie Hubbard, Canonball Adderley, Barney Willen
Biography and commentary: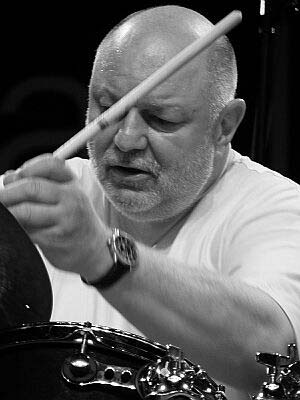 Born in 1938 in Geneva, Daniel Humair is a Franco-Swiss avant-garde drummer and painter who played with almost all French jazzmen since the early days of jazz bebop in France and American jazz musicians passing through Paris ( since the 1950s). He is one of the first professional French jazz drummers and began his training by the military drum in a music school in Switzerland at seven years old. Self-taught in jazz drumming (there was anyway no school education for modern drumset with pedals in France at that time), a follower of the famous American method "Accents and Rebounds" from GL Stone (who was inspired by his pupil Joe Morello), Daniel Humair is a master of swing playing (ternary) with rebounds (very fast and voluble), brushes, timbres, free improvised playing ("free", free groove in the same spirit as Jack DeJohnette and Peter Erskine), the melodic playing with 3 or 4 limbs ("linear drumming"), improvisation of the four limbs, passages by "sweeping" inside doubled notes, etc. He was one of the first to introduce asymmetric measures in jazz (with Joe Morello). His painting footprint the same spirit of improvisation, rhythm and dynamic and "materialist" gestures and also rises to an avant-gardist level of recognition (it is rare enough to be noted). Daniel has received numerous awards such as the "Victoire de la Musique" (French "Grammy award" equivalent) in 2000 with his trio "Hum" (Humair-Urtreger-Michelot) and is an Officer of Arts and Letters. He was the first professor of jazz drumset at the National Conservatory of Music in Paris, currently gives Master Classes for years, wrote a book method, "Drums book, vol 1, Indépendance et rythmes croisés pour batterie" ("Independence and cross-rhythms for drumset"), Alphonse Leduc in 1980, which I find pretty awesome especially in writing (with note heads shaped like right or left stick) and just released an instructional DVD ("La batterie jazz" ("The jazz drumset"), ID Music 2006), which addresses all aspects of the practice and theory of jazz drumming, with a very synthetical, progressive, logic (combinatorial mathematics, for the work of improvisation) and sharp manner (a "must" at least for jazz drummers) . He did me the honor in 2009 to support publicly my drumset methods after having taken the time to read them, choosing me among few other competitors (read his review by clicking here)!
Marc De Douvan, publication in French: January 3, 2006 (for the translation in English: July 12, 2015)
Official website
See
Link to Drummerworld or other
See