Paice Ian
Musicians or bands:
Deep Purple, Paul Mac Cartney, Georges Harrison, The Velvet Underground, Whitesnake, Richie Blackmore, Chad Smith
Biography and commentary: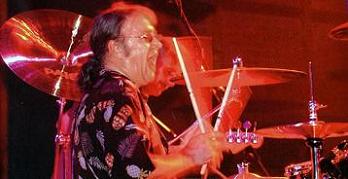 Ian Paice (born in 1948 in England) began by learning violin and chose the drumset at eleven years old because of the visual aspect of its practice after seeing Gene Krupa playing in a film. He taught himself drums which prevents him to become fast one of the best technicians of the instrument (by learning by ear and thanks to the films of the great drummers of jazz big bands). He is known as the drummer of the legendary progressive rock band Deep Purple (founded in 1968). With John Bonham (Led Zeppelin), he is considered as one of the inventors of Hard Rock, which is not surprising if we understand that the expansion of gestures on drums necessarily lead to a powerful playing. This does not exclude the "nuance" (unlike the prejudice that associates the Hard drumming to simplifism), that Ian expressed through the "ghosts notes" ("grace" notes pianissimo also appreciated by John Bonham and Mitch Mitchell (Jimi Hendrix)) almost inaudible and therefore also very visual, and the hits alternating ("one handed roll"), completely inaudible (indistinguishable to the ear, with a single stroke roll), of which he is one of the first practitioners and greatest masters (see video below and my lesson "hits alternating") leaning on the "rim" ("gravity blast" probably his invention, technique taken over by the most newer and virtuosic extreme metal drummers for the "blasts beats" ("very fast rock"), like Derek Roddy, who had just released an entire method on the subject). He is also distinguished by a melodic playing on many toms that he is one of the first to practice with original set up in two rows or triangle. His speed and playing with three limbs rolls are also remarkable. Finally, he has a very "jazz" approach of rock by the use of many improvised breaks (like Bonham or Mitchell again), the ras, "jumped ruffed" and double stroke roll " daddy-mommy", triplets and swing ("half time shuffle", etc.), Afro-Cuban rhythms, "breaks beats" and very subtle variations of dynamic and even tempo (which also makes him one of the pioneers of the "jazz rock" drumming and funk). Ian has been involved in numerous videos including a duet with Chad Smith (Red Hot Chili Peppers). A lesson for those who believe that artistic virtuosity and quality can not agree with a commercial and popular success (the number of Deep Purple records sold are counted in millions).
Marc De Douvan, publication in French: December 10, 2007 (for the translation in English: July 12, 2015)
Official website
See
Link to Drummerworld or other
See