Jones Elvin
Musicians or bands:
Elvin Jones Jazz Machine, John Coltrane, Mac Coy Tyner, Sonny Rollins, Joshua Redman, Pharoa Sanders, Wayne Shorter
Biography and commentary: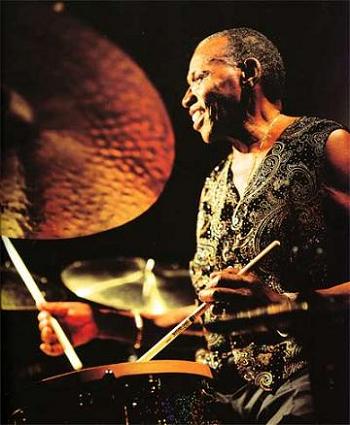 Born in 1927 (in Pontiac, Michigan), self-taught, admirer of the first modern jazz drummers ("Papa" Jo Jones, Kenny Clarke, Max Roach) but also marchings bands, after his military service in entertainment music of army Elvin accompanies 3 years the best jazz musicians in New York of the 50s (as Charlie Parker and Miles Davis) before being primarily known for his participation in the new quartet formed by John Coltrane (who leaves then the famous Miles Davis quintet in 1960). Elvin Jones is one of the drummers that drove the development of the playing with classic jazz constraints so far, that it appears still difficult to do better than him in this context, and that most contemporary jazz drummers content often to try to imitate him, even the bests (improvisation of the four limbs at the same time (one of the precursors with Tony Williams, at the same time and probably inspired by Roy Haynes), independence, speed, ghost notes, sensitivity , three limbs rolls, superimposed rolls with alternating strokes ("Moeller" technique), polyrhythmical shifts, etc.). Some consider him simply as the best jazz drummer in history (he died recently (2004)).
Marc De Douvan, publication in French: January 3, 2006 (for the translation in English: July 12, 2015)
Link to Drummerworld or other
See