Jones "Philly" Joe
Musiciens ou groupes:
Miles Davis, John Coltrane, Sonny Rollins, Bill Evans, Thelonious Monk, Red Garland, Paul Chambers, Lee Morgan, Curtis Fuller, Kenny Drew, Cannonball Addreley, Johnny Griffin, Nat Addreley, Julian Priester, Tommy Flanagan, Jimmy Garrison, Wynton Kelly, Wilbur Ware, Bill Barron, Hank Mobley, Milt Jackson, Wes Montgomery, Clark Terry, Jimmy Cleveland, Peter King, Kenny Wheeler, Les Condon, Mike Pyne, Ron Metthewson, Dameronia, Joe Morris, Bull Mose Jackson, Tad Dameron, Archie Shepp, Sun Ra
Biographie et commentaire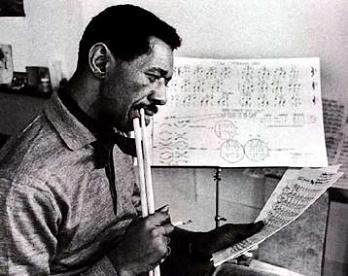 Né en 1923, "Philly" (il est originaire de Philadelphie) Joe Jones est un des plus talentueux batteurs de jazz de la deuxième génération (années 1950, Be Bop) avec Art Blakey, Max Roach, Kenny Clarke, Buddy Rich ou Roy Haynes. Il est connu pour ses accompagnements de Miles Davis (de 1952 à 1961) et ses solos d'anthologie, aussi inventifs que virtuoses, qui ont marqués l'histoire du solo de jazz, avec l'utilisation du shuffle et de la grosse caisse en décalage dans des rudiments complexes rythmiquement. Sa capacité à jouer des contrepoints improvisés très versatiles à la caisse claire, est aussi une de ses marques de fabrique, souvent copiée, rarement égalée. Dire que son jeu a fait école est un euphémisme. C'est pour moi l'archétype le plus accompli du batteur de Be Bop, en totale symbiose avec son groupe. Avec Tony Williams, qui le succédera chez Miles Davis et Elvin Jones qui accompagnera John Coltrane après son départ du groupe de Miles Davis, c'est une nouvelle page du jazz qui se tourne, vers un nouveau monde et ce que les historiens appellent couramment la 3ème génération (ou révolution du jazz): le free jazz et la fusion, que Philly suivra avec John Coltrane, et bien plus tard avec Archie Shepp et Sun Ra. "Philly" nous a quitté en 1985.
Marc De Douvan, publication: 10 octobre 2008.
Lien vers Drummerworld ou autre
Voir