Bissonette Gregg
Musiciens ou groupes:
Ringo Starr, Santana, Toto, Matt Bissonette, Maynard Ferguson, David Lee Roth, Tania Maria, Gino Vinelli, Electric Light Orchestra, Andy Summers, The Pat Boone Heavy Metal Big Band, Linda Ronstadt, The Kottonmouth Kings, Duran Duran, The Counting Crowes, Vanessa Carlton, Joe Satriani, Brian Wilson, Brandon Fields, Walt Fowler, John Patitucci, Jeff Berlin, Richie Kotzen, Eric Ragno, Ray Mantor, Vox Tempus, Lanny Cordola, Tim Heintz, Scott Breadman, Mike Norton, Mustard Seeds, Luis Conte, Michael Thompson, Brett Tuggle, Steve Lukather, Michael Landau, Abe Laboriel, Nathan East, Steve Vai, Randy Waldman, Neil Stubenhaus, Grant Geissman, David Garfield, Michael Fisher, Steve Bailey, Larry Carlton, Jann Arden
Biographie et commentaire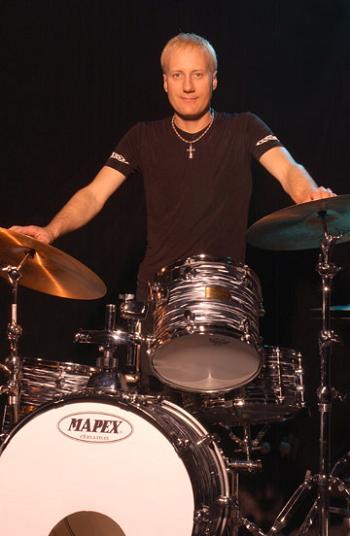 Gregg Bissonette (né en 1959) s'est fait connaître dans le big band "fusion" de Maynard Ferguson, au jeu très polyvalent (rock, jazz, funk, latin, reggae, metal, fusion, pop, etc.) et technique (notes fantômes, improvisation, rudiments militaires, double grosse caisse, balais, indépendance à 4 membres, etc.). Gregg a fait un passage remarqué dans le légendaire groupe de rock progressif Toto et enregistré avec différents virtuoses de la guitare électrique (Franck Gambale, Joe Satriani, Steve Vai, David Lee Roth). Gregg a eu l'honneur de jouer lors du premier concert en hommage à Buddy Rich avec rien moins que Louie Bellson et Dennis Chambers en trio improvisé (un grand moment de l'histoire de la batterie). Gregg est aussi pionnier avec Dave Weckl des vidéos pédagogiques de batterie et donne des master class à travers le monde.
Marc De Douvan, publication: 3 mars 2009.
Site officiel
Voir
Lien vers Drummerworld ou autre
Voir