Colaiuta Vinnie
Musiciens ou groupes:
Sting, Chick Corea, Frank Zappa, Bill Evans, Herbie Hancock, John Patitucci, David Garfield, Lee Ritenour, Megadeth, Joni Mitchell, Karizma, Barbra Streisand, Jeff Beck, John McLaughlin, Five Peace Band, George Duke, Céline Dion, Richard Bona, Frank Gambale, Anastacia, Destiny's Child, Bill Evans, Steely Dan, John Beasley
Biographie et commentaire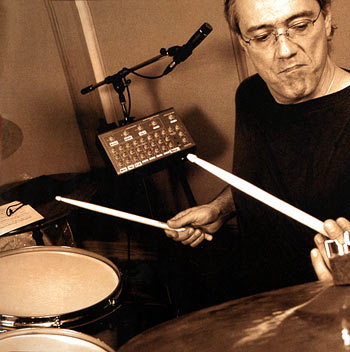 Diplômé de la prestigieuse Berklee College of Music de Boston, Vinnie Colaiuta devient à 22 ans, le batteur de Frank Zappa, succédant au grand Terry Bozzio, de 1978 jusqu'en 1981 ("Shut up and play yer guitar", album monstrueux!)et sera alors très vite sollicité par de nombreux artistes (comme Joni Mitchell, Barbra Streisand et surtout Sting en 1993 ("Ten Summoner's Tales", "Mercury Falling" (1996), succédant à Stewart Copeland, Omar Hakim et Manu Katché!) en tant que musicien de studio. Il jouera aussi avec les meilleurs jazzmen contemporains comme Chick Corea, Herbie Hancock, Bill Evans ou John Patitucci, par exemple. Vinnie est un batteur à la technique rarement égalée (talon pointe des deux pieds en indépendance, roulements à 3 membres avec passages au sein des notes doublées, alternances de frappes, etc.), au jeu complexe (maître de l'improvisation en mesures asymétriques, breaks beats, notes fantômes, de l'improvisation des 4 membres en indépendance en même temps, dans la veine de Jack De Johnette), polyvalent et puissant, à l'image des grands batteurs contemporains comme Dennis Chambers, Dave Weckl, Terry Bozzio ou Billy Cobham, pour ne citer qu'eux. Il a eu l'honneur de faire un trio "drum battle" improvisé avec rien moins que Dave Weckl et Steve Gadd lors du premier concert d'hommage à Buddy Rich, réservé aux plus grands batteurs de l'époque (1989).
Marc De Douvan, publication: 3 janvier 2006.
Site officiel
Voir
Lien vers Drummerworld ou autre
Voir