Smith Marvin "Smitty"
Musiciens ou groupes:
The Tonight Show, Dave Holland, Steve Coleman, Kip Hanrahan, Sonny Rollins, Ron Carter, Benny Golson, Milt Jackson, Branford Marsalis, Monty Alexander, Michel Camilo, Diane Reeves, John Scofield, Don Pullen, Steve Turre, Kenny Barron, Sting, Buddy Rich Big Band
Biographie et commentaire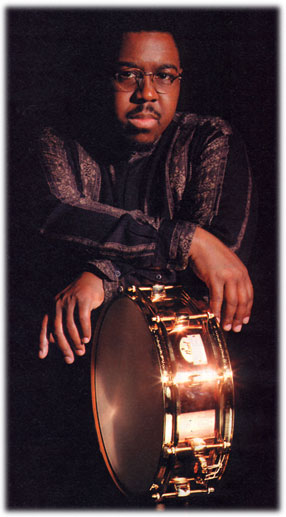 Né en 1961, d'un père lui-même batteur, Marvin Smith ("Smitty") est un des plus grands virtuoses de la jeune génération des jazzmen et jazz-rockers (il a joué avec un grand nombre des meilleurs jazzmen contemporains). A l'aise dans tous les styles et toutes les techniques de jeu (même la double pédale, ce qui est rarissime chez les batteurs de jazz), Marvin est un maître du solo improvisé avec une grande ambidextrie (il enchaîne montée et descente de toms à une vitesse rarement égalée) et compléxité (mesures asymétriques, qui a fait la marque de fabrique de la section rythmique de Steve Coleman (il joue sur son premier album, « On the edge of tomorrow », 1986, et sera ensuite remplacé par Gene Lake), un des saxophonistes et compositeurs les plus novateurs de ces dernières années). Marvin a eu l'immense honneur de participer dès son jeune âge (30 ans) à un concert d'hommage à Buddy Rich (réservé aux batteurs les plus novateurs et virtuoses du monde), notamment en duo improvisé avec son non moins célèbre homonyme Steve Smith (un grand moment!) et donne régulièrement des master class à travers le monde.
Marc De Douvan, publication: 3 janvier 2006.
Lien vers Drummerworld ou autre
Voir