Sorum Matt
Musiciens ou groupes:
Guns N' Roses, Velvet Revolver, The Cult, Slash's Snapkit, Duff Mac Kagan, Scott Weiland, Dave Kushner,Steve Jones, John Taylor, Neurotic Outsiders, Poe, Glenn Hughes, Tori Amos
Biographie et commentaire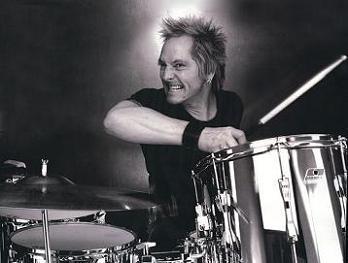 Matt Sorum (né en 1960 en Californie) s'est fait connaître comme le brillant batteur de la période de gloire du légendaire groupe de Hard Rock américain (Los Angeles) phare des années 1980-90: les Guns N' Roses, albums Use your Illusion I et II (1991). Il a débuté sur le premier album de la chanteuse Tori Amos (« Y Kant Tori Read » 1988). Matt a un jeu lourd et construit, en intégrant des ornementations très techniques (flas alternés avec grosse caisse, ratés sautés avec descentes de toms, double pédale pour les breaks (roulement à 4 membres), frisés de caisse claire avec accents, etc.) qui marque sûrement la transition entre le Heavy metal "enragé" des débuts (Black Sabbath, AC DC, etc.) et le métal mélodique ou progressif ( Angra (Aquiles Priester) , Dream Theater (Mike Portnoy), etc., dont Iron Maiden (Nicko Mac Brain) reste quand même le précurseur) ou le hard rock actuel plus variété (Linkin Park, Evanescence, etc.). Son jeu est très inspiré par le grand maître du Heavy Metal Rock américain: Carmine Appice. Il a reçu un Grammy Award pour la chanson « Slither » de l'album « Contraband » de Velvet Revolver (« Best Hard Rock performance 2004 »). Matt possède une vidéo pédagogique et a eu l'insigne honneur d'accompagner le Buddy Rich Big Band sur « Burning for Buddy : A Tribute to the Music of Buddy Rich» (le seul batteur de heavy metal qui a eu cet honneur, preuve de sa polyvalence, comme tous les grands batteurs).
Marc De Douvan, publication: 10 octobre 2008.
Site officiel
Voir
Lien vers Drummerworld ou autre
Voir