Dunbar Lowell "Sly"
Musiciens ou groupes:
"Robbie" Shakespeare, The Wailers, Jimmy Cliff, Burning Spear, Black Uhuru, Peter Tosh, Herbie Hancock, Serge Gainsbourg, Monty Alexander, Lee Perry, The Congos, King Tubby
Biographie et commentaire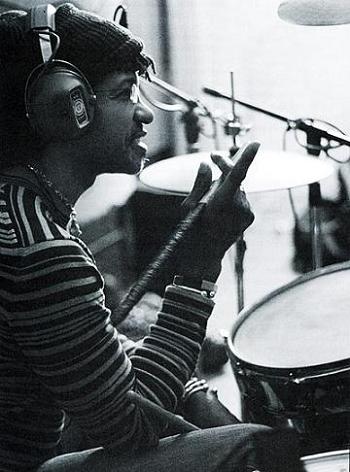 Né en 1952, "Sly" (qui s'est lui-même surnommé ainsi en hommage à Sly Stone) Dunbar est un batteur jamaïcain, virtuose et pionnier de la batterie reggae. Il forme avec Robbie Shakespeare, bassiste, la section rythmique la plus demandée de l'histoire du reggae : « Sly and Robbie ». Sa marque de fabrique est une imitation du style percussif africain avec un jeu sec (toms étouffés, rim shots (même sur les toms), timbales, pads électroniques, etc.) en frisé, triolets et décalages (surtout au niveau des pêches). Très inventif, chaque morceau est l'occasion de polyrythmies différentes notamment avec l'apport de petites percussions empruntées au Brésil et à Cuba (en rerecording ou avec un percussionniste en plus), avec une réinterprétation perpétuelle des rythmes de base. Sly Dunbar a également créé beaucoup de « riddim » (« rhythm », compositions synthétiques servant de fond aux chanteurs de ragga muffin, style jamaïcain très en vogue dans les années 1990, et qui inspirent aujourd'hui largement le rap, la soul et la dance music également).
Marc De Douvan, publication: 3 janvier 2006.
Site officiel
Voir
Lien vers Drummerworld ou autre
Voir