Ameen Robby
Musiciens ou groupes:
Horacio Hernandez, Kip Hanrahan, Mongo Santamaria, Ruben Blades, Eddie Palmieri, Paquito D'Rivera, Milton Cardona, Dizzy Gillespie, Dave Valentin, Steve Swallow, David Byrne, Paul Simon
Biographie et commentaire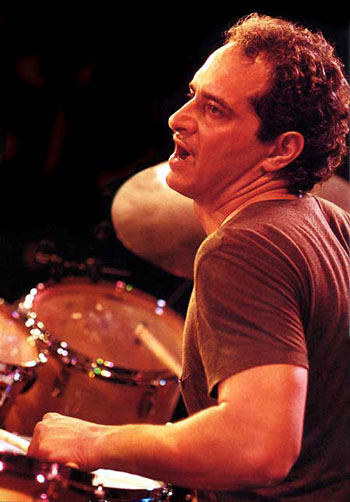 Américain, libanais d'origine, diplômé de Yale en littérature, Robert Ameen a étudié aussi la percussion classique et auprès du maître du free jazz "world" Ed Blackwell. C'est un pionnier de l'adaptation "funky" des percussions afro cubaines à la batterie moderne (avec Steve Gadd et sa version très personnelle du ""Mozambique" cubain" qu'on appelle depuis le "New York Mozambique", et José Luis Quintana "Changuito" et son "Songo") grâce à une connaissance parfaite des rythmes de base traditionnels (comme la cascara ou la clave à la main droite). Un des rares batteurs à improviser en indépendance en jouant la clave au pied gauche. L'alter ego de Horacio Hernandez (avec qui il a joué en duo) et Akira Jimbo, avec une culture de la musique cubaine impressionnante. Il existe des partitions pédagogiques de Robby Ameen qui se sont imposées comme une référence (« Afro-cuban grooves for bass and drums-Funkifying the clave », avec le bassiste Lincoln Goines, 1990).
Marc De Douvan, publication: 3 janvier 2006.
Site officiel
Voir
Lien vers Drummerworld ou autre
Voir