Mayer Jojo
Musiciens ou groupes:
Depart, Nerve, Strange Balls Of Fire, Dizzy Gillespie, Ernestine Anderson, The Vienna Art Orchestra, Wolfgang Muthspiel, Fredy Studer, Harry Pepl, Gerald Veasley, Monty Alexander Group, Chico Freeman, James Blood Ulmer, George Adams, Steve Coleman, John Zorn, The Intergalactic Maiden Band, Hiram Bullock, Meshell n'dege Occello, Mino Cinelu, Friedrich Gulda, Harry Sokal, Lunar Crush, John Zorn, Chico Freeman, George Adams, Jamaaladeen Tacuma, Mike & Leni Stern, Passport, Wah Wah Watson, Depart, Headless Torsos, David Fiuczynski, John Medeski
Biographie et commentaire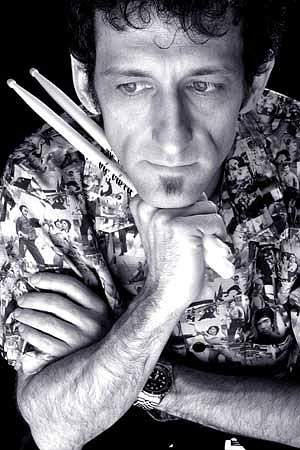 Né à Zurich, Suisse, en 1963, Jojo Mayer est un jeune batteur aujourd'hui connu pour son jeu inspiré du Drum'N'Bass des années 90 (batterie samplée, montée, mixée ou électronique). On oublie un peu trop, que le premier batteur qui a adapté avec brio ce genre de rythmiques prises sur les disques de funk, fut Marc Erbetta avec Eric Truffaz ("The Dawn", 1998). D'ailleurs, Clyde Stubblefield lui-même, un des premiers batteurs de James Brown, faisait déjà des breaks beats ("Cold sweat", 1967) à un tempo qui n'a rien à envier à Jojo Mayer. Par contre, Jojo a réalisé lui-même (fait exceptionnel) un magnifique double DVD consacré à ses réelles spécificités en tant que batteur: "Secret Weapons For The Modern Drummer" (2007), qui développe les techniques de mains des plus traditionnelles (batterie militaire) aux plus récentes (alternance des frappes, "Moeller technique") avec un niveau de clarté, de maestria et d'exhaustivité jamais égalé à mon avis. Ce DVD montre en outre encore un batteur ultra polyvalent, autant à l'aise en jazz samba qu'en jazz funk (voir aussi la liste des personnes avec qui il a joué ci-dessus).
Marc De Douvan, publication: 10 octobre 2008.
Site officiel
Voir
Lien vers Drummerworld ou autre
Voir