Collins Phil
Musiciens ou groupes:
Genesis, The Phil Collins Big Band, Peter Gabriel, Ray Cooper, Brian Eno, Sting, Helen Terry, Robert Plant, Eric Clapton, Paul McCartney, Brand X, Ozzy Osborne, Phil Bailey, B.B. King, Albert King, Paul Butterfield, The Manhattan Transfer, Oletta Adams, N Sync, Rosie O' Donnell, Stevie Ray Vaughan, Frida, Robert Fripp, John Cale, Adam Ant, Bunny Berigan, Philip Bailey, Peter Banks, Stephen Bishops, Gary Brooker, Café Jacques, Camel, Al DiMeola, Empire, Frida, Dave Greenslade, Steve Hackett, Daryl Hall, Rupert Hine, Eddie Howell, Howard Jones, Jack Lancaster, Eliott Murphy, Ralph McTell, Mike Oldfield, Tears for Fears, Tina Turner
Biographie et commentaire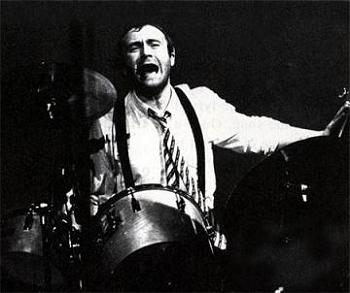 Né en 1951 à Londres, Phil Collins est un des premiers batteurs de rock progressif au jeu très inventif et polyvalent. Il est aujourd'hui plus connu pour ses prestations vocales (de haut niveau également). Il fut à la fois choriste et batteur dans le mythique groupe Genesis (1971) avant de remplacer Peter Gabriel comme chanteur leader lors de son départ du groupe (1975). Sa participation plus méconnue dans le groupe de fusion Brand X (1976) montre toute l'étendue phénoménale de son talent novateur de batteur dans le style « funky » (mesures asymétriques, syncopes, linear drumming (comme les roulements avec notes doublées au pied droit, dans la lignée de John Bonham), notes fantômes, ouvertures de charleston, improvisation, sens des nuances, du swing et du groove remarquables, etc.) qui n'est pas sans rappeler Dennis Chambers plus tard (c'est dire !). Un des rares batteurs de pop à avoir eu l'honneur de jouer à un concert d'hommage à Buddy Rich, où il est accompagné par le grand percussionniste cubain Luis Conte, qui a beaucoup joué avec lui (on peut trouver ce concert en DVD). Il a aussi formé un big band qui reprend notamment ses propres chansons comme thème (à découvrir). Des ennuis avec sa colonne vertébrale lui ont contraints d'arrêter la batterie récemment (espérons que ce ne soit pas définitif comme il semble l'annoncer lui-même). Phil a remporté pas moins de 8 Grammy Awards.
Marc De Douvan, publication: 3 janvier 2006.
Site officiel
Voir
Lien vers Drummerworld ou autre
Voir