Donati Virgil
Musiciens ou groupes:
Planet X, Michel Polnareff, Cloud Nine, Taste, The State, Broderick Smith, Southern Sons, Loose Change, Peter Cupples, Linda Cable, Alan Zavod, Brian Brown, Jon Stevens, Tribal Tech, Garsed & Helmerich, Derek Sherinian, Mark Boals, On the Virg, Eric Norlander, Joel Hoekstra, Ken Steiger, Frank Gambale, Soul SirkUS, Bunny Brunel, Mick Jagger, Joss Stone, Dave Stewart, Joseph Williams, Steve Vai Band, Freakhouse, Tribal Tech, CAB, Ring of Fire, Derek Sherinian, Steve Walsh, Mark Boals, Tina Arena
Biographie et commentaire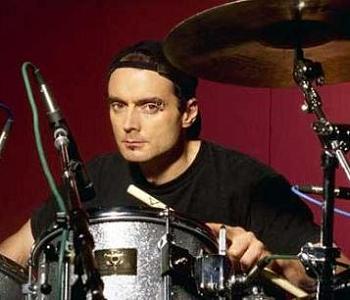 Né en 1958 en Australie, Virgil Donati joue de la batterie dès 3 ans et commence à prendre des leçons à sept ans. A 19 ans, il étudie 2 ans aux Etats Unis avec entre autres Philly Joe Jones en personne, un des plus grands virtuoses de la batterie jazz Be bop. Virgil est à l'aise aussi bien en rock qu'en jazz, ce qui en fait naturellement un des meilleurs batteurs de fusion (jazz-rock) dans la veine de Billy Cobham et comparable à Terry Bozzio, Dave Weckl, ou Vinnie Colaiuta. Sa maîtrise à la double pédale de grosse caisse est remarquable avec des concepts originaux comme le roulement (DDGG) en talon pointe ou les frisés sautés de 3 inversés (un sommet de technicité avec les pieds). Il est aussi spécialiste des mesures asymétriques et des décalages polyrythmiques notamment avec des battues indépendantes sur deux charlestons. Il propose également des vidéos pédagogiques et des partitions.
Marc De Douvan, publication: 3 janvier 2006.
Site officiel
Voir
Lien vers Drummerworld ou autre
Voir