Aronoff Kenny
Musiciens ou groupes:
Ricky Martin, John Fogerty, Lynyrd Skynyrd, Melissa Etheridge, Garth Brooks, Smashing Pumpkins, Dave Navarro, Tony Iommi, Celine Dion, Amanda Marshall, Michael Sweet, Eddy Money, The Freddy Jones Band, Mary Chapin Carpenter, Philip Claypool, Dave Uhrich, Richie Sambora, Rod Stewart, Rolling Stones, Kim Fox, Joe Jackson, Joe Cocker, Meatloaf, John Cougar Mellencamp, Bob Seger, Poor Boys, Brian Setzer, Belinda Carlisle, Paul Pesco, Bill Carter, The Graces, Seth Marsh, Indigo Girls, Elton John, Jon Bon Jovi, Bob Dylan, Jimmy Ryser, Richie Sambora, Shannon Curfman, Michael Sweet
Biographie et commentaire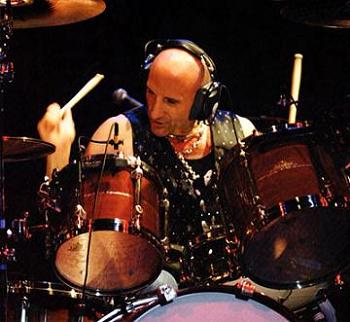 Né en 1953, Kenny Aronoff jouait déjà de la batterie en public à dix ans. Il joue en autodidacte jusqu'à 16 ans puis entre à l'université du Massachusetts pour étudier la percussion classique (comme le marimba). Après une courte carrière de timbalier d'orchestre il décide de se remettre à la batterie moderne en prenant des cours chez Gary Chester entre autres. Sa pratique de l'instrument en fait un jazzmann accompli (voir sa prestation avec le Buddy Rich Big Band) et surtout un des rockers les plus demandés de sa génération (de la pop au métal). Son jeu n'est pas sans rappeler celui d'un pionnier de la batterie rock moderne: Carmine Appice. Kenny a écrit de nombreuses méthodes pédagogiques avec une écriture et des concepts pédagogiques originaux (utilisant les mathématiques combinatoires et des superpositions de doigtés, pour développer l'indépendance, qui inspirèrent sûrement les méthodes de Thomas Lang et Marco Minnemann, et en tout cas les miennes) et performé des DVD pédagogiques.
Marc De Douvan, publication: 3 mars 2009.
Site officiel
Voir
Lien vers Drummerworld ou autre
Voir