Puente Ernesto « Tito »
Musiciens ou groupes:
Count Basie, Charlie Parker, Dizzy Gillespie, Bobby Rodriguez, Celia Cruz, Mongo Santamaria, Stan Kenton, Woody Herman, Sam Burtis, Piro Rodriguez, Mario Rivera, Hilton Ruiz, Jo y Bravo, Charlie Palmieri, Bernie Glow, Bobby Porcelli, Allen Fields, Marty Holmes, Charlie Sepulveda, Jon Fausty, Vicentico Valdes, Nick Travis, Dave Valentin, Michel Camilo, Jerry Gonzalez, La India, Giovanni Hidalgo, Horacio "El Negro" Hernandez
Biographie et commentaire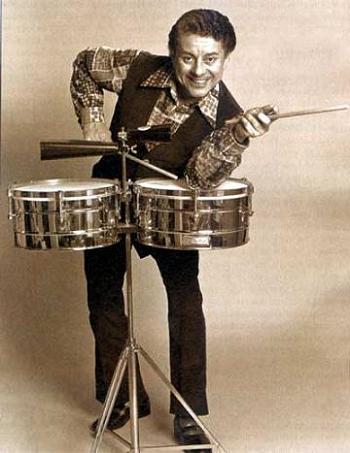 Surnommé « El Rey del timbal » et le « Mambo King », Ernesto ("Tito") Puente fut un virtuose des timbales latines, vibraphoniste, compositeur et arrangeur, né à New York en 1923 (ce qui fait que la salsa est américaine et non cubaine, contrairement à ce que l'on pense couramment). Tito s'est imposé par l'intelligence de son jeu (il est sûrement l'inventeur du jeu en indépendance avec la clave jouée au pied gauche avec une pédale de grosse caisse et une cloche) et de ses compositions (comme le célèbre « Oye como va » repris par Carlos Santana entre autres), qui ont classisées la salsa comme genre, indépendamment du latin-jazz. Ce qui est typique des arrangements de Tito, c'est la qualité polyrythmique toute africaine et percussive, appliquée à tous les instruments de l'orchestre (un arrangement de Tito réunit souvent une voix différente par instrument aussi bien harmoniquement que rythmiquement (un sommet musical tout style confondu)). Il a aussi imposé un style de solo qui privilégie les décalages rythmiques aux roulements (contrairement aux batteurs de jazz de l'époque). Tito a reçu un record de 6 Grammy awards pour la catégorie "latin". Un « monument » de la percussion moderne, récemment disparu (2000), et qui nous laisse une méthode pédagogique et historique incontournable («Tito Puente's Drumming with the Mambo Kings », avec Jim Payne, 2000).
Marc De Douvan, publication: 3 janvier 2006.
Lien vers Drummerworld ou autre
Voir